Helping publishers grow and thrive.
We create high-performance custom WordPress websites for market leading web publishers.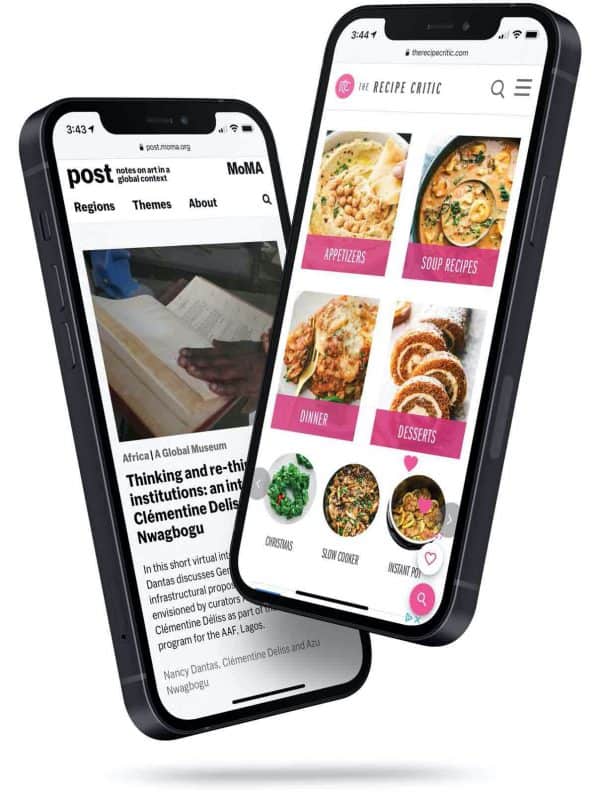 ---
Mobile-first design
Mobile isn't just a consideration anymore; it's the primary way people use the web. Worldwide mobile traffic has already surpassed desktop. Google has made mobile-first indexing the default for all new domains. For many publisher sites, we're seeing 80% of traffic coming from mobile—and when we see data like that, we go mobile-first.
With mobile-first design, we start on mobile to ensure the experience is great and from there, we use responsive design to expand layouts with progressive enhancement as browser sizes and capabilities increase.
---
Optimized for Page Speed
Page Speed is a major ranking factor in the Google algorithm. They understand that when users have a slow experience — especially on mobile — they're much less likely to find what they're looking for. Google recommends site owners pay attention to performance metrics to improve user experience.
We help publishers by building custom WordPress themes with the exact features and functionality they need. We follow development best practices to build lean, high performance sites without the superfluous bloat of commercial themes.
---
Designed for Accessibility
Accessibility isn't a feature you can tack on the end of the project – it must be considered throughout the entire design and development process. We strive to build websites that are usable by all people without the need for adaptation or specialized tools.
During design, we adhere to WCAG 2.1 AA guidelines for type, color, and contrast. During development, we follow WCAG best practices to deliver websites that are perceivable, operable, understandable, and interpretable.
---
Built for Gutenberg
As early technology adopters, we began developing custom blocks for the new Gutenberg WordPress editor before it was officially released. Every site we've launched since has been designed from the ground up to take advantage of the block editor.
Gutenberg allows publishers to drag-and-drop blocks to create visually sophisticated content, but the available core blocks are fairly basic. With Cultivate VIP, we design additional custom blocks that address the specific content creation needs of our clients.
---
Our Secret Ingredient
Our Cultivate Pro plugin is a game changer. It expands the default WordPress archives with block-based Category Landing Pages. Instead of a simple reverse-chronological listing of posts, Category Landing Pages include our custom-designed blocks to create visually sophisticated archives with a variety of post listings to highlight popular content.
Category Landing Pages provide additional SEO opportunities, expand content discoverability, and improve the user experience. The continuously updated plugin ensures the custom blocks are current with our latest improvements.
---
About CultivateWP
We help publishers grow and thrive by providing the tools, knowledge, and services they need to improve performance, increase traffic, and enhance the user experience of their websites.
Cultivate VIP
Cultivate VIP is our premium service designed to help you plan, implement, and launch your website. Over time, we'll help you extend, enhance, and optimize it for growth.
Cultivate Pro
Cultivate Pro packages our custom-developed core technology that powers 20 of the top 100 food blogs in a continuously updated WordPress plugin.
Our Team
CultivateWP was co-founded by long term partners Bill Erickson and Duane Smith. Today, our team features many talented and respected designers and developers.
---
Our Clients
MoMA – The Museum of Modern Art
Nice Kicks
The University of Cambridge
The University of Texas at Austin
Texas A&M University
Bergamo Montessori Schools
Cash Money Life
Best Life Rates
Dog Food Advisor
Calc Workshop
Brentwood Associates
Study Finds
Dr Jockers
PostOS
MasterVoices
ROCO – River Oaks Chamber Orchestra
Boutique Japan
SolutionsIQ
North American Thrombosis Forum
State Bar of Texas Family Law Section
Connatser Family Law
Pritzker Law
Bellaire Probate
The Sundheim Group
The Kerouac Project
DIY Natural
CARAS
Dating Divas
Simply Recipes
WP Recipe Maker
The Recipe Critic
Dinner then Dessert
Lil Luna
Skinny Ms
Minimalist Baker
Spend with Pennies
Two Peas and Their Pod
Jessica Gavin
The Recipe Rebel
The Kitchen Magpie
Grown and Flown
Pinch of Yum
Half Baked Harvest
Plain Chicken
Shugary Sweets
Chocolate Covered Katie
Crazy for Crust
Dassana's Veg Recipes
Add a Pinch
Mint Arrow
Barefeet in the Kitchen
Taste by Trish
Well Plated
Katie Workman / The Mom 100
Her Packing List
Practically Functional
Let's Talk
I knew what to expect every step of the way, deadlines were always met and the project launched on time. I have received nothing but praise from my readers for a site that is easy to use, easy to navigate and most of all, it's fast!Holly Nilsson Spend with Pennies
The final product is a website that looks great, is easy to use, loads quickly, and put us in a position to almost immediately scale website traffic by over 900%. I couldn't be happier!Ian Hunter NexRep
Working with Bill was a wonderful experience. My website loads fast, looks professional, and I am so happy with the final results. He is hands-down the best developer I've ever worked with, and I would absolutely recommend him to others.Katie Higgins Chocolate Covered Katie
From start to finish, this project was fantastic. Bill is a consummate professional. Every deadline was met ahead of time and he delivered a website that was better than I imagined. He engineered solutions to requests I had and made them better than I dreamed. I highly recommend his team for any and all website needs.Mary Younkin Barefeet in the Kitchen
Client Resources
Once you're ready to approve and launch the redesign, we'll schedule a day and time for launch. We typically schedule launches for Tuesday or Wednesday mornings – we never launch on Friday because we want to ensure we're available in the days following the launch to resolve any issues that might come up. At the…